Donate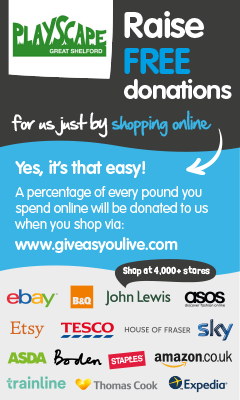 With nearly £200k to raise we need your support, but if every registered voter in the village donated just £53…we'd reach our target! That's just £1 a week for a year (and a week!) or a family trip to Knebworth house, park and gardens (with a drink at the café).
What can you afford to donate for a lasting legacy of fun, health and inspiration for our community?
It is simple to support us and here is how you can do it. Click the button below to donate via BTMyDonate.
Or if you prefer JustGiving, see below:
Or why not register for free with Give As You Live and when it comes to doing your online food shop, booking a holiday or even renewing a broadband package you can support Great Shelford Playscape instantly. You can even get a good deal for yourself as they act as a price comparison website too!
Don't need any more things in your life? Then how about a de-clutter instead? On eBay, when selling your pre-loved items, you can nominate a charity of your choice and decide what percentage they receive from your listing. Simply use the "advanced tool" option when listing any items and there you'll find the charity box, search for Shelford Playscape and job's a good's.
You can also write a cheque made payable to "Great Shelford Playscape" and pop it into the Vicarage (with a note saying if you are happy for us to claim gift aid and your address details).

Fundraise
Watch this space! We will be organising some big sponsored events to involve and entertain the village whilst bringing in some much needed revenue for the playscape appeal.
Let's just say we hope to bring some awe and challenge to this fundraising initiative!
Have your say
We want to hear your views!  We have conducted focus groups in the community and have collected your opinions in an online questionnaire. We now have a draft master plan, have a look and let us know what you think. Follow us on Facebook and Twitter for all the latest news.

Volunteer
Whether you have some professional expertise you could offer us, or a brilliant idea or are just happy to volunteer at events, please do get in touch, we value any help you can offer us.