DONATE
What can you afford to donate for a lasting legacy of fun, health and inspiration for our community?
It is simple to support us and here is how you can do it.
Donate online through CAF Donate
Donate online through JustGiving
Raise money for free with Give As You Live
Register for free with Give As You Live and when it comes to doing your online food shop, booking a holiday or even renewing a broadband package you can support Great Shelford Playscape instantly. You can even get a good deal for yourself as they act as a price comparison website too!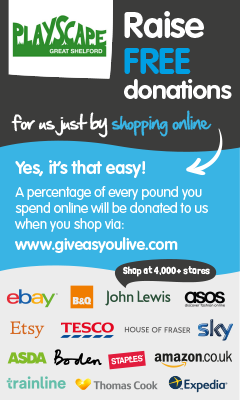 Raise money via Amazon Smile
Use this link to find us on Amazon Smile.
Raise money on eBay
Don't need any more things in your life? Then how about a de-clutter instead? On eBay, when selling your pre-loved items, you can nominate a charity of your choice and decide what percentage they receive from your listing. Simply use the "advanced tool" option when listing any items and there you'll find the charity box, search for Shelford Playscape and job's a good's.
We even accept cheques!
You can also write a cheque made payable to "Great Shelford Playscape" and pop it into the Vicarage (with a note saying if you are happy for us to claim gift aid and your address details).

FUNDRAISE
Feel free to organise your own fundraising event. You could do a bob-a-job with your kids for your neighbours or you could have a cake sale. You could raise money for us when you do your next big feat!
VOLUNTEER
Whether you have some professional expertise you could offer us, or a brilliant idea or are just happy to volunteer at events, please do get in touch, we value any help you can offer us.
BECOME A CORPORATE SPONSOR
Are you a local company and want to support this great cause? Then please contact us and we will be delighted to feature you on our sponsors page!