Shelter Design Competition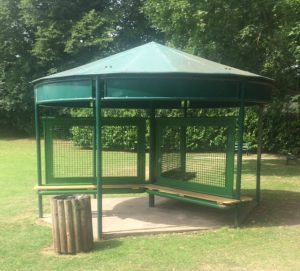 This Shelter is not the prettiest and until some new wooden seats were installed, it wasn't very comfortable either! However, we think we can give it a new lease of life: Nestled next to the future basketball & football practice area, with some quirky new companions (the old horse and roundabout will be repurposed into more seating), it's waiting for some planting and a lick of paint.
How do you think it should be painted?
Download our competition form or pick one up from our stall at the Christmas Lights Switch On, Sunday 2nd December, and you could see your ideas become a reality!
Competition Details
Please send your design to Playscape c/o The Vicarage 12 Church St. Great Shelford CB22 5EL or email a scanned copy to info@shelfordplayscape.org.
Deadline for Entries: Friday 11th January 2019.
There is no age limit and you may work with someone else.
Representatives from the Parish Council and Playscape Committees will choose the winning design. We reserve the right to adapt the design where necessary.