More funds for an Inclusive Playscape
We were delighted to receive a generous donation of £5000 over the summer and raise a further £4400 from the fantastic Fun Run in September. This is great news for our campaign to bring an inclusive and inspiring playscape to the Village.
Master Plan Progress
The new services transformed the way the Feast and the Fun Run could operate this year and the PC has given the green light to continue with the enabling works. This will see a new pedestrian entrance across the car park with extended cycle parking. The lost car spaces will be relocated to the other side of the memorial hall: the vandalised skate ramp will be removed and in its place new grasscrete parking spaces installed, from the boiler house to the tennis club. New safer fencing will also replace the pole fence at the car park edges, as currently little children and dogs can run straight under.
With a massive increase in hedgerows and trees needed to combat our Climate Crisis, the committee was happy to make a physical difference this month when we were finally able to plant the Woodland Trust's hedge at the top of the rec. Unfortunately, only a few of the saplings the Beavers planted a couple of years ago had survived, so this time we've planted in a double row and we will mulch before spring to give them a helping hand.
We haven't forgotten about the shelter renovation either, quotes for horse silhouettes are coming in!
Behind the scenes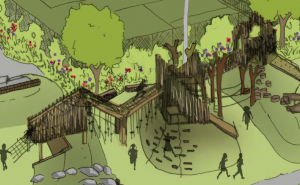 Aside from organising the Fun Run we've been assessing different equipment companies' proposals against the design brief: a bit like specifying which kitchen you want before you go out to tender to appoint a builder. These companies range from a fully bespoke, made to measure approach to a build by numbers from the catalogue approach. Vaila is putting together a review of this, which we will present to the PC at the end of this month. There is an element of chicken and egg at this stage of the process: we need to go out to tender to finalise costs, but concurrently we need to have other funds ready to apply for grants, which need to see tenders…we are therefore working simultaneously on procurement decisions and our fundraising strategy!
Coming up…
The new and improved Christmas Lights Switch on is back again this year, Sunday 1 st December, 3.30pm – 7pm, and we will be ordering MUCH more mulled wine! Come and join this great village event and help raise funds for Playscape and the Primary School.
#EveryTreeCounts