Playscape – Our Valuable Rec, A Space for All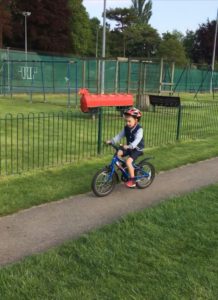 What a joy it has been to see the rec used so extensively during this time of lockdown. Kids have learnt to ride their bikes, mini-outdoor gyms have popped up in the copse and even deck chairs were spied in the meadow! Genius.
Yes there's been the occasional negative behaviour, but on the whole people have shared the rec beautifully with solo walks, socially distanced groups and picnics galore. It has got noticeably busier as guidelines have evolved, but looks like people are obeying the keep out signs of the playground.
Instead, the shelter, willow dome and basketball hoop have never been so well used! Indeed, you often have to queue to shoot some hoops, with one family coming down every evening to do just that. For those with flats along Woollards Lane the rec is effectively their garden with somewhere safe to sit, and it is also a place for recuperation: one girl with a broken leg was routinely wheeled down to the river each day.
I think it's fair to say that we've all come to a deeper understanding of how important time
spent outside is for our health and well-being.
During this time we've made a grant application and are preparing others, updated the website and planned the Shelford Virtual Fun Run: July 15 th – September 15th 2020.
Registration is open so check www.shelfordfunrun.co.uk
to see how you can take part to support getting a most amazing playscape for the village.