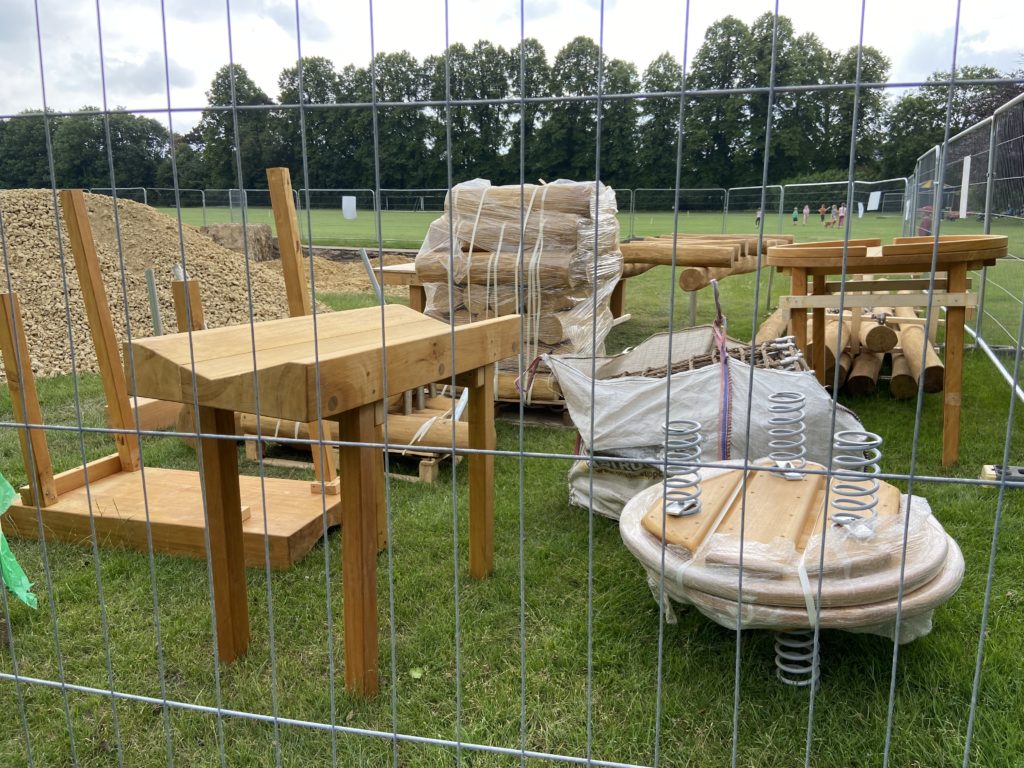 The Contractors have now been here for a month and things are looking very different! All the old equipment and safety surfacing (3 layers in some places!) have been removed and tons of hardcore and topsoil have been delivered to the site to create the new mounds. We were excited to see the first delivery of the beautiful bespoke hardwood equipment arriving this week and the swings and hammock frames will be popping up shortly.
The old favourites (the horse and the roundabout) are due for their makeover in the next week or so and will form a quirky little seating area near the shelter in a retro fairground style.
You may have spotted the green fence has been repurposed and is already looking great in its new location between the rec and the car park, making the edge of the rec much safer for small children and dogs (who easily could run under the old scaffolding style fence into the busy car park!). In the autumn we'll be planting a low hedge along the fence line to make the boundary feel softer and greener, and to improve the view from the rec and playscape. We love a bit of recycling!
Shelford Fun Run Registration is now OPEN!
10.30am, Sunday 26th September
We are so excited to bring back this in-person event this year, raising funds for the next phase of the master plan: the wheelscape. A low-level, hard landscaped area designed by skateboarding specialists for scooters, skateboards, bikes and wheelchairs, this will cater for learners through to the more experienced.
Can't make the 26th? Fear not! We are also continuing with the virtual race option too. So now there's no excuse not to dust of your trainers and make your 5k count by supporting your local charity!
Volunteering
If you are able to volunteer on the day instead, by helping set up, marshall or take down, please contact us.
We can't wait to see you at the start line!