Playscape's totaliser passes £30,000!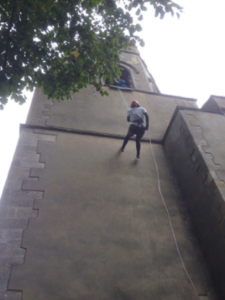 A HUGE THANK YOU to the community of Great Shelford and beyond for all your support so far.
The abseil total has just passed the £6000 mark and another very generous cheque of £2000 arrived the other day – a great step closer to a fantastic playscape for everyone to enjoy!
There may be a dozen committed villagers working hard on this, but we cannot do it alone – we need your help every step of the way: be it donating, fundraising, using your co-op membership card or volunteering at events, please don't ever hesitate to contact us with an offer of help!
The Copse project is underway: Sophie O'Hara Smith, an experienced local Landscape Architect, has drawn up the detailed design which will be on our website soon. The PC had set aside funds as part of the riverside renovations for benches and bins so Sophie was invited to include these in her plan too so that the whole area has a cohesive design. We've met with the SSYI (who is generously funding much of this project as well as providing the labour!) and we are putting together a schedule of works. First task is for the SSYI is to make some bird boxes in time to put them up in January. In Spring there will be planting of trees, shrub and many, many, wildflower plugs in the meadows, so watch this space as any extra volunteer help will be gratefully received!
The wider plans are evolving too. Last month, representatives of Playscape and the PC met with Susanne from Erect Architecture and a planning officer for a pre-planning meeting. We also discussed specific issues with the Tennis Club, Cricket Club and the Feast as we are committed to finding the best solution for everyone and this was a really positive day for all concerned. Once we've received advice from Planning we will be able to push forward on the detailed design of the top play area and in due course apply for full planning permission.
In the meantime, we've started planning our next big fundraising event. Yes, everyone, Shelford Fun Run will be back! Pencil Sunday 17th September 2017 and dust off your trainers ready for 5 km of fun!