The Copse 2.0
The copse and meadows were one of the first phases of the master plan to be implemented and they have become a real destination for rec users, especially during these strange covid-19 times.
As with all things, it was time to reassess these spaces and see what could be improved. The den building area has certainly suffered from what one might call too much interaction – practically all the den building material had been thrown in the river or been used for fires. We needed to reinstate this as a place for play.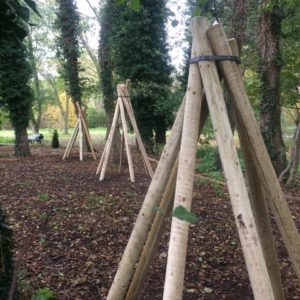 Wonderfully, the Shelford and Stapleford Youth Initiative approached us again to see if they could help and thanks to their fundraising and practical support we have started the remedial works. During the summer and half-term holidays the young people helped us put in new post and board edging ready for more wood chip, create three fantastic permanent dens and plant some more shrubs and wildflowers. We also took the opportunity to give the willow dome its over due haircut.
The meadows have done well, with some good patches of tansy, cranesbill, musk mallow, oxeye daisies and more starting to colonise these areas, but long grass still dominates. So local volunteers came together to sow a mixture of yellow rattle (that is semi parasitic to grass) and wildflower seeds in some swathes across the meadows to help the wildflowers along. This is probably a process we'll need to repeat over the next few years, but it was good to make a start!
The Playscape will definitely have trees!
We were very happy to learn that the PC's application to the S.Cambs Zero Carbon Grant was successful and part of that money is for the mature multi-stem silver birch trees and an amelanchier that are part of the scheme. Thank you to Claire Lord from 2G3S group for approaching us and preparing the grant, we are very grateful.
We're sorry we couldn't serve you mulled wine this year at the Village Lights Switch On, but we wish you all a Merry Christmas all the same and thank you for your continued support!