It'a a Knockout! April 23rd 2016
We are very excited to launch one of our big fundraising events – It's a Knockout!
Join us for an action-packed afternoon of inflatables, water, and friendly competition as Shelford's finest battle it out to lift the It's a Knockout trophy – and in the process help to build a lasting legacy for our village.
Great Shelford Playscape needs YOU!
We're putting the fun firmly back into fundraising and we're looking for enthusiastic team leaders to organise teams of min 6 people (max 10). Your team might represent a local company, sports club or other local organisation. It might simply be a group of friends. We're asking all participants to raise a minimum of £100 each, but challenge you to raise more!   If twenty teams each raise £2000, we could raise 20% of our target through this one event.
Register your team's contact details here and we will get in touch with further instructions. There will be prizes to be had for the winning team and top fundraiser, plus refreshments and entertainments for the kids too. It promises to be a very entertaining afternoon and more importantly an opportunity to start making our dreams for an inclusive, fun, inspiring playscape a reality: Come and help us raise money on the rec for the rec!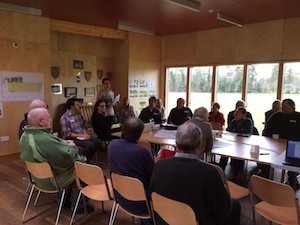 The designs for the master plan are getting closer.  This is the Playcape and Parish Council committees, plus other key stakeholders, at Erect Architecture's presentation of the master plan ideas to date.  We are very excited about the designs and can't wait to share them with you, watch this space, it won't be long!