Copse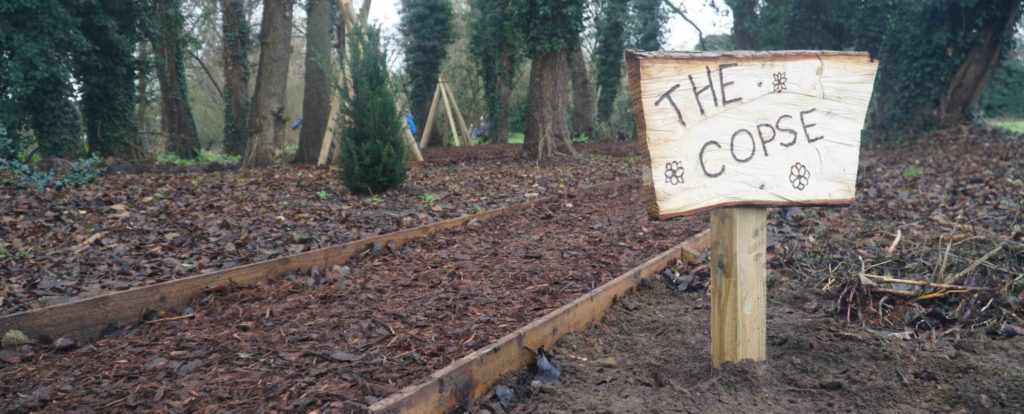 Have you spied the new magposts in the copse yet? These are posts with magnifying glasses set into them so would-be naturalists can study what they've found. The SSYI and Playscape team spent a very soggy Monday just before Christmas installing them, along with the new signs that the SSYI had made, plus sixty bags of mulch. Now it's a case of waiting for spring to see the results of all the sowing and planting we did too!
The SSYI also have enough wood to make signs for the willow den and the bridge. We were thinking along the lines of "No.1 The Willows" and "Trip Trap Bridge" but we are open to suggestions! Do drop me a line with any ideas.
Shelter
We honestly haven't forgotten! The Parish Assistant has kindly got quotes for the laser cut horses and we've donated the funds we had for this project to the PC in readiness. We just need to finalise the CAD drawing of the horses for the metal worker, which has been delayed due to the challenges of home working and home learning!
Grants
We submitted one full application and one expression of interest to two funding bodies before Christmas. The latter has now invited us to submit a full application, which is very encouraging. We expect to therefore receive the final decisions from both these funding bodies in March.
Fun Run
Pencil 26th September 2021 in your diary to run the Shelford 5k again! It's a different weekend to our usual one so that we don't clash with the Little Shelford Weekend, or the Chariots of Fire race. Although we hope to have a Playscape by then, we still have plenty to continue fundraising for, namely the wheelscape and Muga Practice hoop and goal (near the shelter).
We are really hoping to bring back the full event this year as it brings the village out in force, but we will keep the virtual option as a back up. We are contacting our sponsors and watching the progress of this national lockdown closely and will make a call in March.