Recipe for a New Playscape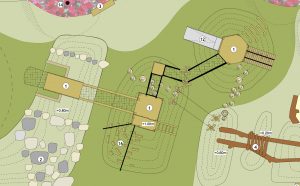 Ingredients
1 dozen committee members
2 dozen public consultations
1 x It's a knockout extravaganza
A dusting of abseilers
400 fun runners
A generous outpouring of donations
Mix it all together, let it rise for a month or two whilst we wait for planning permission and then ice with final grants. With a bit of luck it'll be ready to serve by the end of the year…
…It's 3 years this month since a small group met together to talk about sorting out the playground. Since then the scope of the project has doubled in size, we've raised over £60,000, developed an inspiring inclusive design, planted meadows, trees (have you seen the hawthorns and cherry by the meadow?), installed boulders & bridges, learnt how to run
large fundraising events and talked a lot about a red horse!
To celebrate how far we've come I will be raising a glass to the amazing Playscape team who are working to turn this big vision into a reality. You can continue to support us by registering on Give As You Live, auctioning things on eBay and selecting funds to go to Great Shelford Playscape, donating via our website, or volunteering for fundraisers.