There was no rest for the Playscape team over the summer as work continued on fundraising, pre-planning applications and a pop-up consultation!
Copse Project
On Saturday 13h August we consulted the village about rejuvenating the copse area (as identified in the draft master plan) to encourage more outside play whilst increasing biodiversity and interest for walkers too. The proposals and report will shortly be available here.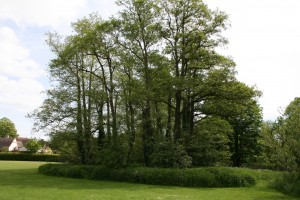 The response was overwhelmingly supportive. Those who were more cautious about the ideas were keen to maintain a sense of wilderness. Our intention is absolutely that: blurring the edges of the copse by increasing the number of native plants and leaving grass to grow in to a meadow would greatly increase the wilderness factor, whilst introducing logs to play and sit on will entice the community to experience the wilder side of the rec.
The Wildlife Trust has been very supportive of the proposals and see no problem opening up routes into the copse. They recommended planting woodland species such as Wood Avens, Ramsons, Selfheal, Red Campion, Hairy St John's Wort and Primrose, amongst others. This project will be done in partnership with the SSYI and a Garden Designer and as a bonus we have been accepted for the Co-op Community Fund!
Co-op Community Fund – Please choose us!
Do you shop at the Co-op? Do you have a membership card? Well every time you choose Co-op branded products, services or use you Co-op Membership card 1% of what you spend will go to your chosen cause…so please nominate Great Shelford Playscape! This money will go directly into buying materials and plants for the Copse project.
Thank yous…
A huge thank you goes to the Denton family who hosted a Playscape themed Open Garden for their neighbours. Not only did they raise awareness for the cause, but a fantastic £130 too! Playscape was also the surprise beneficiary of a legacy: Mrs Joy Campbell, who sadly passed away last year and who had lived opposite the rec for many years, kindly left £200 to the charity.
And finally…stop what you're doing and go along and cheer!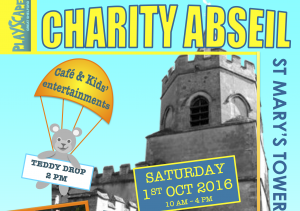 If you're reading this on the 1st of October then pop down to St Mary's Church anytime between 10am and 4pm and cheer on the intrepid lot that have agreed to abseil down the tower! You'll also find kids entertainments and the Teddies Drop at 2pm! You'll definitely need a cup of tea after all that excitement, fortunately there's a café there too!
Sponsor the abseilers at mydonate.bt.com/charities/greatshelfordplayscape