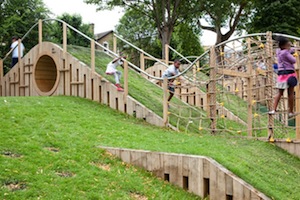 The art of the playscape has been brought to the mainstream recently with various articles and exhibitions, such as the RIBA's The Brutalist Playground. With its tagline "Part sculpture, part architectural installation, all play" this exhibition was designed to celebrate original concepts for play and help us question what we think play spaces ought to look like. If hard concrete brutalism isn't your thing then head to www.play-scapes.com – scroll down this blog and you will be left giddy and inspired by the wonderful play spaces from all around the world (and yes Erect Architecture features!).
Play for all
I didn't make it to the brutalist exhibition, but under the guise of "research" I did join my sons on a couple of new inset trampolines at Coleridge Park. One thought occurred (actually, two thoughts, first one being that jumping for more than a minute is tiring!) number two, I really enjoyed playing with them rather than standing at the side waiting for them to finish. I may not make time to go to the gym, but I do have time to clamber up a big climbing frame and play bounce-tag with my kids whilst I'm there – crucially the equipment made if feel appropriate for me to join in. Wouldn't it be great if more ambiguity in play spaces not only encouraged greater play interpretations, but also a wider range of users?
The nitty-gritty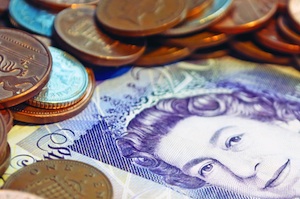 Anyway, enough about play, now to some hard work. Fundraising. Our homework this month was to put our fundraising hats on and research different fundraising avenues. Fortunately, a few other volunteers have joined our ranks with enthusiasm and we've enlisted the help and advice from a couple of professional fundraisers in the village, so we are putting together a solid fundraising plan. If you have any great ideas then we'd love to hear from you.
Your support really adds up
And finally, a real encouragement came out of the blue when our totaliser jumped up dramatically: A very generous private donation of £2,500 (+gift aid) was made via our website by a local resident. Your support, whether through our Donate button, completing our online questionnaire, following us on social media or attending fundraising and engagement events, is crucial – so a big thank you to everyone who's supported us so far.
If you haven't already, please do fill in our questionnaire, it closes 30th Sept!