Exposed to the elements
Some of the most innovative playspaces have been brought about through circumstance. Take the natural play area in Brooklyn's Prospect Park, composed entirely of trees, sand and a single water pump, this exploratory zone for kids and adults alike was devised after the great hurricane Irene and Super Storm Sandy hit the area: 500 sizeable trees fell in the park and none could be removed because of Asian longhorn beetle infestations – so they were resurrected into an awesome play space instead!  The allure of natural elements is definitely something we want incorporated into our playscape, although we may have to bring some in to augment what we already have.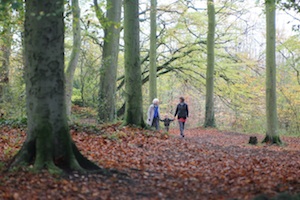 Fortunately it is not hurricane season in Cambridge UK right now, but sometimes as the seasons change the adults in us start worrying more about the cold and the dark than the advantages of getting everyone outside for a breath of fresh air. So this autumn I'm going to invest in some torches for us all to go on some after-dark walks and adventures. We're going to see how many acorns/apples/conkers/red leaves/yellow leaves we can find. And I'm going to keep trying my luck at those monkey bars that children swing so cheerfully from – that ought to keep me warm!
What are your survival strategies?
Why not let us know your top tips for entertaining the little ones (and not so little ones!) outside through all seasons and weathers? Vaila has started a regular "photo Friday" spot on Facebook and Twitter, and just opened our new Pinterest account with a whole host of inspiring images – a perfect forum for sharing great ideas, go check it out!
Other business…
With the PC's £5,000 donation paid in last month we have submitted our application to register with the Charity Commission. Being a registered charity will open up more fundraising sources and make our campaign more cost-effective (e.g. we'll become eligible to use cheaper online fundraising sites).
And finally, many thanks to everyone who filled in our online questionnaire. We will let you know the results ASAP and forward these, together with the focus group results, to Erect Architecture, who will soon have the green light from the PC to get going on the master plan. I for one can't wait!