Test Your Head For Heights and Raise Money for Playscape!
Registration is now open for Playscape's Sponsored Abseil down St Mary's Church Tower!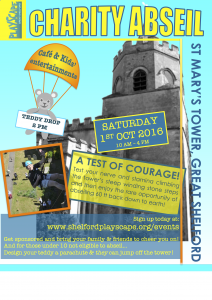 Buoyed by the success of It's a Knockout and the £23,000 raised to date we are looking forward to our next big fundraiser on Saturday 1st October 2016. Normally only a select few gain access to St Mary's tower so this is a fantastic opportunity to test your nerve and courage and take in an unusual view at the same time!
Anyone over 10 and capable of climbing the stairs is welcome to take part, and we challenge each abseiler to raise a minimum of £100 for all your bravery!  Registration fees are £15 for 10-17 year olds, £25 for Adults.  SIGN UP HERE TO RESERVE YOUR SPOT!
For younger enthusiasts, you can nominate your teddy! Yes, simply design your teddy a parachute, get them sponsored and they will be launched from the tower – the last teddy down wins a prize! More details and teddy sponsorship forms can be found here.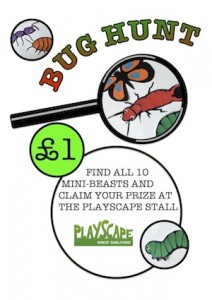 You will also be able to sign up for this on Sunday 17th July at Shelford Feast, on our stall. Playscape will be running a BUG HUNT for all those mini-explorers out there. Ten cheeky mini-beasts will have gone walkabout sampling the best of the feast: if you can find them all you win a prize!
We'll have the draft master plan on display again too and would love to chat with you about playscape and how you can help us realise this exciting project. Like last year, just follow the green balloons…