Shelford Fun Run chases down £5500 for Playscape!
By Sunday 17th September over 380 runners had registered for the 5km and as the clock struck 11 they were off!
There is something rather uplifting about being applauded by spectators as you embark on your first 5km run (I was the tail "runner" and was very grateful that two lovely ladies had taken us at our word and were walking the route!). As we were enjoying the scenery of the Shelfords devoid of cars, some serious runners were recording some very impressive times…
Congratulations to Miguel Branco (16:48), Jo Coates (18:06), Sam Russell (20:39), and Sophie Brock (24:13), respectively the first man, woman, boy and girl across the finish line.
Thank you to all those who took part, cheered, and ate cake, and particularly all those who volunteered on the day (thank you Free church, Shelford PTA & the WI) – we couldn't have done it without you!
A huge thanks too to the cheery Bidwells team, our main sponsor, who ran (in tutus!) the 5km, staffed the water station, provided wonderful gifts and gave out medals at the end. We are also very grateful to: Vindis, Davies Solicitors, David Reed Homes, Tesco, Day Accountants, Gymbos, Scotsdales, Waitrose and Budgens. Their generous sponsorship and donations enabled us to close the roads and give out brilliant medals and goodie bags.
With all proceeds from the registration, entertainments and food, plus a fantastic £970 raised by runners (particular shout out to "The Leopards", Beverley Cornaby, and Lou Everard) we raised an amazing £5500 for Playscape.
All in all a fitting event for Playscape – open to all ages, starting and finishing on the rec – we'll be bringing it back again next year!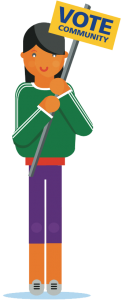 STOP PRESS! VOTE FOR US BETWEEN 24 OCT – 21 NOV 2017!
We have entered Playscape for the Aviva Community Fund 2017. To make it to the finals and the chance to win up to £25,000 we need your votes. Register here to vote us!